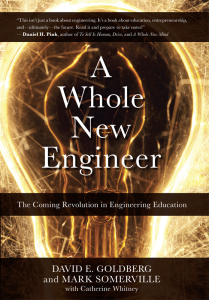 A Whole New Engineer: The Coming Revolution in Engineering Education is available in hardcover and e-book formats at www.wholenewengineer.org.  Special bulk (by the case = 22 books) pricing for US institutions of higher education is available in the continental US (download PDF order form here) or email here.The table of contents is as follows:
Introduction: An Improbable Journey
Chapter 1: Engineering Happiness – The Olin Experience
Chapter 2: The Incubator – Helping a Big Old Dog Learn New Tricks
Chapter 3: The Spirit of Invention –  Recapturing the Inspiration of Engineering Education
Chapter 4: The Whole New Engineer – Engaging the 6 Minds
Chapter 5: The Emotional Breakthrough – 5 Pillars of Transformation
Chapter 6: The Whole New Learner – From Carrots and Sticks to Intrinsic Motivation
Chapter 7: The Whole New Professor – From Expert to Coach
Chapter 8: The Whole New Culture – From Classrooms and Curriculum to Culture
Chapter 9: Changing the Way We Change – From Bureaucracy to Change Management
Epilogue: An Invitation to Collaborative Disruption
Advance Praise for A Whole New Engineer
See what thought leaders are saying about A Whole New Engineer:
"Many engineers are taught that engineering is about harnessing science to build systems that stabilize and control the world. This wonderful book is about engineering in a world of accelerating technology change, a world of mounting uncertainties and situations beyond anyone's control. In other words, the real world. Engineers are called to be designers who propose new systems and entrepreneurswho get them adopted. The book lays out the emotional and cultural skills that engineers need to succeed as designers and entrepreneurs.
"A Whole New Engineer imagines and brings to life the kind of engineering education I would have liked to have had. This book unlocks the master keys to what we're all chasing as engineers: innovation, prosperity, efficiency, health, safety and happiness."
"Much debate about educational reform is cast in strictly rational terms. It's both ironic and moving that a couple of engineers have nailed the importance of love, empathy, and caring as foundational in rethinking education."
"Don't let the title of this wonderful book fool you. This is not just a well-researched and expertly written primer on how to fix our system for educating engineers and making a vital discipline appealing to a broader cross-section of students. Professors Goldberg and Somerville have also given us a detailed roadmap on how we can reform higher education in general to turn out the confident risk-takers and critical thinkers desperately needed to make the world better for everyone in it."
"Last year, only about 4% of all the bachelors degree awarded in America went to students studying any kind of engineering and nearly half of all university freshmen who choose engineering as a major this fall will not graduate in engineering. Unless we find a way to engage our most innovative students in engineering again, America's future—which depends heavily on technological innovation—will not be as bright as its past. This requires challenging conventional thinking and completely rebuilding the culture of learning. Goldberg and Somerville have vividly described the required new learning culture, which goes well beyond course content and curriculum. It requires a whole new mindset to produce a whole new engineer. If you care about America's future, you should read this book."
"This is a deeply felt and well crafted volume–a pleasure to read–that will challenge not just engineers but all of us to think about the proper place of engineers and engineering in society."
"This isn't just a book about engineering. It's a book about education, entrepreneurship, and — ultimately — the future. Read it and prepare to take notes!"
"The refreshing approach advocated by this book will help cultivate the necessary intellectual, emotional, and social virtues for engineers of the future to act as leaders and innovators who exercise good judgment and influence public policy, not just accomplish technical tasks."
Learn More
Learn more about A Whole New Engineer: The Coming Revolution in Engineering Education here.