An earlier post (here) talked about understanding the nature of complaints and one royal road to feeling calmer through the speech act of making clearer requests.  This post discusses an important point made by Don Migel Ruiz in his bestseller, The Four Agreements, in particular, a point made in his 2nd agreement, "Don't take anything personally," but before getting to that point let me recount a short story of my introduction to the text.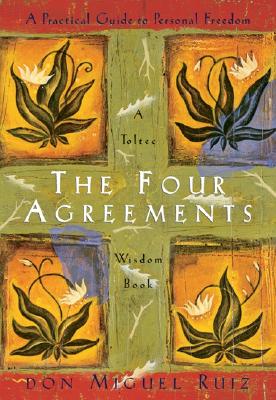 I was introduced to this text by my coach Bev Jones (here), but I must confess that I was a reluctant reader of the book, resisting her suggestion for the better part of 9 or 10 months. When I originally looked at the book in early 2010, it seemed like a lot of soft-side hooey, and as an engineer, my strong left brain resisted the idea that it might contain anything useful for me.  Later, when I was taking training as a coach myself, I had been softened up sufficiently to open and read the book, and I must confess that the four agreements almost immediately blew my mind and changed my life.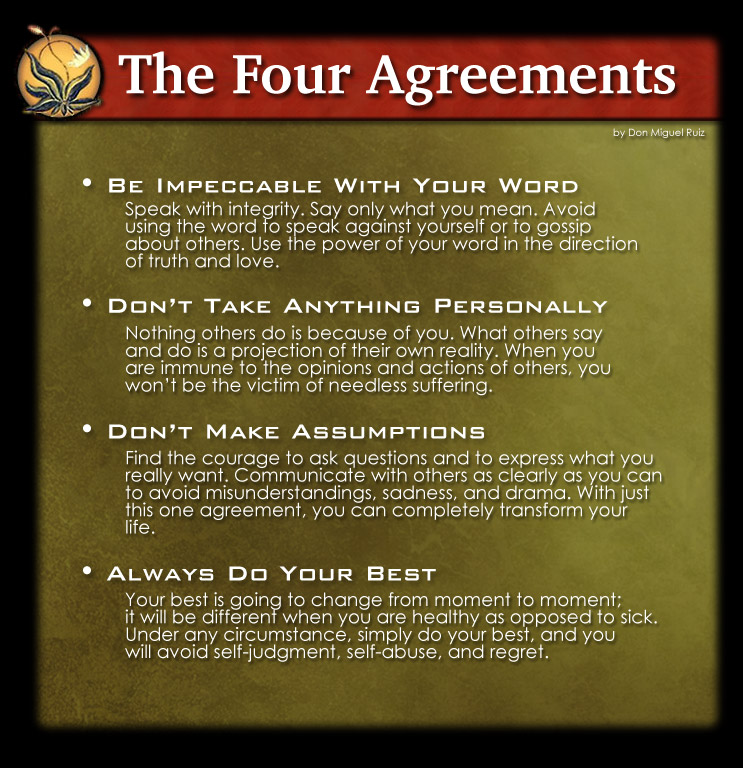 The poster to the left reproduces the agreements with some elaboration.  The agreements are easy to state, and not so easy to apply, but if you do apply them, they can result in a calmer, easier existence.  Here they are:
Be impeccable with your word.
Don't take anything personally.
Don't make assumptions.
Always do your best.
This post is not the place to go into each of them, and for a fuller treatment, just read the book (here and don't wait 9 or 10 months to overcome your hooey filter), but I do want to spend a bit of time on the 2nd agreement: "Don't Take Anything Personally."
A major source of lack of peace in our lives is the words that people say about us or the actions that they take with respect to us, and our interpretation of those words or actions and our resulting feelings. When someone says something that offends us, for example, there are three distinct parts to the chain of events:  (1) The thing said, (2) our interpretation of it, and (3) our emotional reaction to our interpretation.  Two of the three things are occurring in our minds, but oftentimes we experience the three collapsed into one.
This unity of experience is revealed in the way we talk about such events, words such as "He made me feel bad," "She snubbed me at the party." and the like, but the simple decomposition of the discrete events (speech or act by another, interpretation, and feeling) shows that there is a way to nip the bad feeling in the bud by refusing to interpret the words or deeds personally.  In other words, when you are about to feel bad as a result of something someone says or does (or doesn't say or doesn't do) with respect to you, invoke the 2nd agreement.
When I first discuss this with clients, they tend to resist, and say that it is impossible.  After all, how could you interpret the act any other way? It was intended, wasn't it?  But even when harm or insult is intended, we have a choice, and recognizing that we are always in choice about our interpretations (and thus our feelings) is liberating in a way that is hard to fathom at first.  The trick to this is catching the reaction before it happens, and neuroscientist Dan Siegel says that we have a magic quarter of a second to invoke our awareness before a reaction takes place. If we use this quarter of a second, and invoke the 2nd agreement, we can have greater and longer lasting calm, even in the face of controversy or other external turmoil.
To get on the road to greater calm, read The Four Agreeements here or visit Don Migel Ruiz's website here.