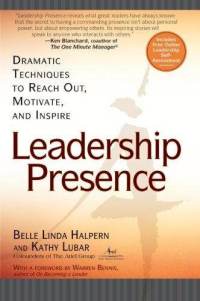 I was working with a client on confidence in public speaking and other stressful public situations, and the conversation turned to leaders with great presence.  Presence is an interesting quality in that it is difficult to articulate in words, yet we know it when we see it.
Oftentimes coaching deals in words, but some of the most beneficial coaching is somatic coaching or coaching for physical presence in body, and one of the most beneficial resources for leadership presence is Halpern and Lubar's book Leadership Presence based on work at the Ariel Group that uses experience from acting and theatre training to help leaders show up authentically and well.
The basic model of the book goes by the acronym PRES or
P – Being Present
R – Reaching Out
E – Expressiveness
S – Self-knowing
The text is filled with a variety of exercises and experiences that get readers to feel presence in action. If you are interested in your leadership presence or in working with others, you can do worse than to dip into this useful book.