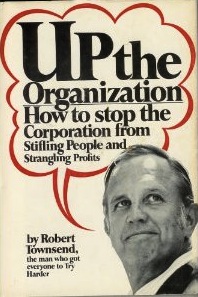 For the writing of  the forthcoming book (2014) "A Whole New Engineer: A Surprising Emotional Journey" I was reflecting on the management and leadership influences in my life, and I had almost forgotten about Robert Townsend's little book, Up the Organization.  I went onto Kindle and ordered it (here), reread it, and renewed my acquaintance with an old friend.  
In its day, the book was almost singlehandedly responsible for popularizing Douglas McGregor's Theory X and Theory Y (here).  Here's part of what he says in the section on People:
Get to know your people. What they do well, what they enjoy doing, what their weaknesses and strengths are, and what they want and need to get from their job. And then try to create an organization around your people, not jam your people into those organization-chart rectangles. The only excuse for organization is to maximize the chance that each one, working with others, will get for growth in his job.You can't motivate people. That door is locked from the inside. You can create a climate in which most of your people will motivate themselves to help the company reach its objectives. Like it or not, the only practical act is to adoptTheory Y assumptions and get going. It isn't easy,
Townsend, Robert C.; Bennis, Warren (2011-01-06). Up the Organization: How to Stop the Corporation from Stifling People and Strangling Profits (J-B Warren Bennis Series) (Kindle Locations 1425-1430). Wiley. Kindle Edition.
Yes, in places it is dated, but there is an authenticity and an energy the book emits that makes it worth a read today (here).